Br
ö

gger System

The Brögger System, designed by a famed flutemaker Johan Brögger, is an innovative pinless mechanism of which patent only Miyazawa has.
With this technique, deflection of rod is removed, the adjustment of spring tension for each individual key can be more precise,and the movement of keys is astonishingly improved, which enables more natural performance with completely different key touches.
Moreover, due to the removal of knock-pins, problems of keys caused by frictions when keys are in move is completely resolved.
The Brögger thum key mechanism, designed ergonomically so that it fits more naturally to the hands of players, reduces the fatigue of hands. Furthermore, by relocating and prolong the key pipe of thum key, smoother and more secure performance is enabled. In conventional types of thum key mechanism, flat springs touch the body tubing and wear and tear was caused by friction. The thum key mechanism in this innovative Brögger system substantially reduces these problems and enables smoother finger actions with using the thin round spring, same as used in the main line of the body.
Thus the Brögger System is a high spec. system which is superior in all aspects to the conventional flutes.
Flat-Bottom Key Cups
Flat-bottom key cup is a structure which enables more precise fitting of pads, by processing the inside bottom flat. Thanks to the reduced discrepancies in shapes of between key cups and pads, individual adjustment from player to player becomes possible. The key cups and pad spud made from the same solid metal elevates the evenness inside of the key cup and minimizes the changes through long use.
Miyazawa will also challenge for such a try that takes time and cost.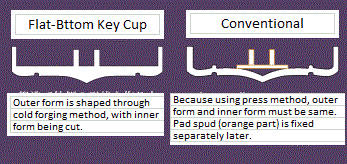 Silver Connection Parts (Body/Footjoints)
For smooth connections, connection parts of NS body/footjoint models (102, Atelier-1, Legacy-1) are made of silver.
Especially for footjoint, silver connection parts are soldered instead of conventional method of expanding.

Straubinger Pads (Option)
Conventional pads were, through frequent absorption of moisture and dry, distorted as time goes by, which disturbed tight sealing of toneholes.
For this reason, regular adjustments of pads were necessary so far, but with this innovative Straubinger pad, keycups can retain tight sealing of toneholes if handled politely. However, the preciseness of the body making must be on extremely high level in order for retrieving its advantage. The combination of this pad and our flat-bottom keycups as well as under-pinless (left hand) shows excellent synergy. Structurally, unstable felt parts are minimized and felts are storaged in the high-precision resin frame, which resolves natural change of pad.